As an office worker and an active blogger I spend almost daily long periods of time sitting in front of my computer. But man was never made to be sitting all day, which is why there are times when one feels the pain from sitting for hours. Unfortunately there is no magic pill to solve this problem and frequent breaks and exercise are the only thing that will help ease the stress on your body. It is also essensial to have a proper and comfortable chair to be sitting on.
I began thinking about buying a new office chair already a while ago, but only two years ago I really started exploring the options. Doing a proper research is definitely worthwhile, as there are hundreds of different chairs claiming to be designed with ergonomics in mind. Seating comfort is still a very personal taste and there is no one chair that will please everyone. That is why it is important for one to carefully explore the different options and also visit stores to try different chairs in practise. 💡
It is safe to say that investing in a good chair with lots of features will pay off big time in the long run. Unfortunately good chairs cost quite a bit, from $500 all the way to several thousands of dollars. Hence buying a new chair will be a big spending decision and one needs to compare different options properly. Remember that once you make your decision, you will be enjoying it for years to come.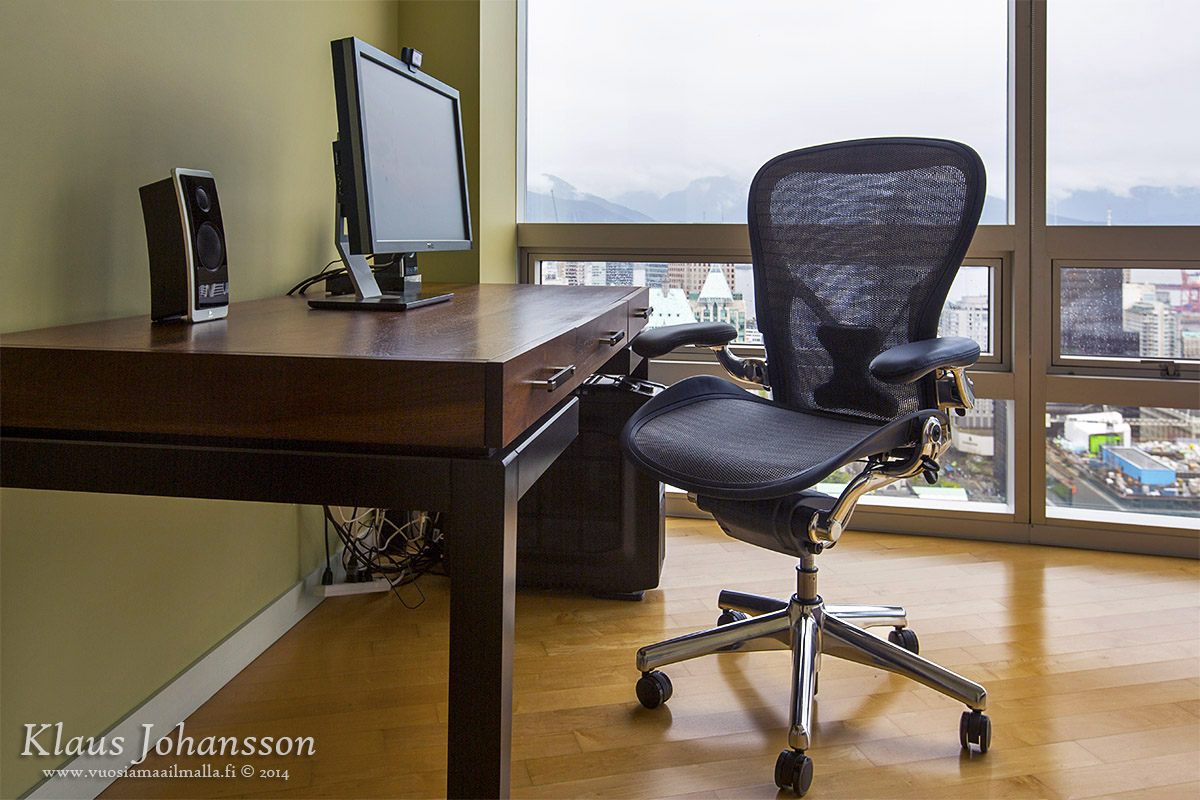 Herman Miller Aeron
After doing my own lengthy research, I started to lean towards a well-reputed American chair and furniture manufacturer Herman Miller and their 1994 introduced Aeron which is considered a true classic by many. Aeron was one of the very first ergonomically designed office chairs and it has made it as a permanent exhibition piece at the Museum of Modern Art in New York. During the last two decades tens of thousands of Aerons have been sold and it became to be known as one of the Dot Com tech bubble symbols found in many offices at that time.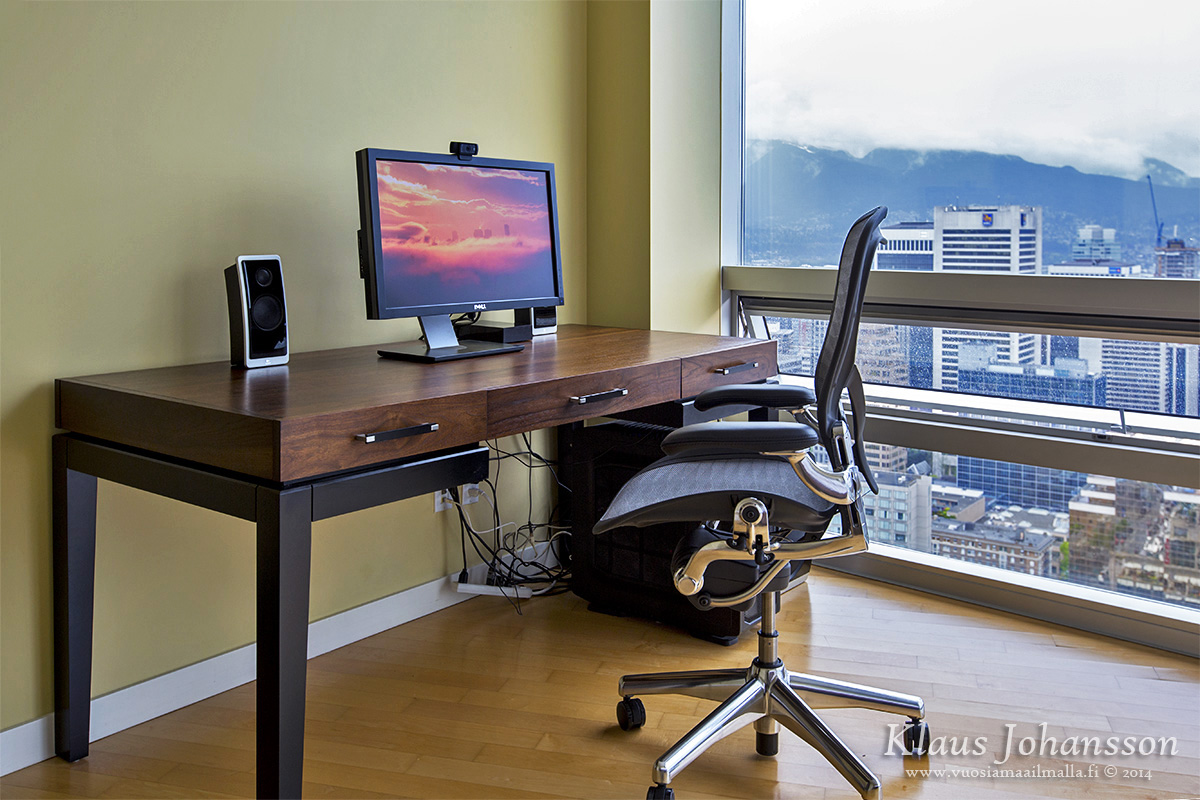 Aeron is regarded a classic by many
One of the great things about Aeron is how customizable the chair is, allowing buyers to pick and choose from a long list of features that add to its ergonomics and aesthetics. The basic model comes in simple, yet sturdy, but paying extra will give you a lot more adjustability. I ended up buying one of the top models which has features such as adjustable lower back support called PostureFit, a relaxing tilting with an option to lock the chair in different positions and adjust the tension of the tilt. Both of the chair arms can also be adjusted separately and the chair is covered with a special breathing fabric that doesn't make you sweat. The crown in the cake is the chrome treatment of the chair legs which makes the chair look very sharp and contemporary. 🙂
Lots of options for adjustment
I purchased my Aeron two years ago and have since sat on it for few thousand hours in front of two different desks. My verdict is that it has great and durable materials that feel both nice and high quality. Also the sitting comfort is very good, however replacing a cheap chair with Aeron didn't feel that special immediately. The thing is that one has to learn to adjust the chair and find the right settings for oneself, which takes time. After having found my favorite settings, I find the chair comfortable to sit on for hours on end without feeling tired. This was definitely not the case with my old chair, where I felt tired after only a few hours.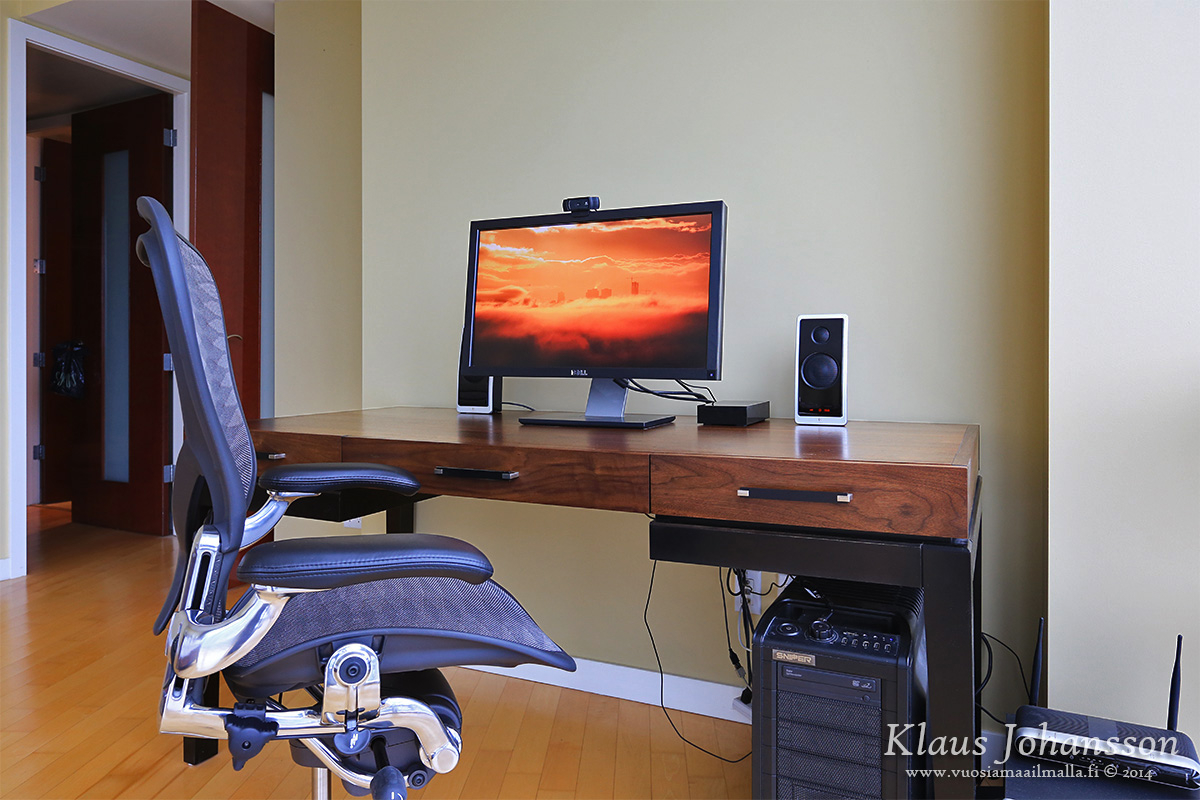 Good chair is something every blogger needs
So I would say that I am very pleased with my purchase, although no chair will totally eliminate the downsides of sitting for hours. I look forward to be using my Aeron for years to come and I am very delighted that Herman Miller offers every Aeron with a 12-year unlimited warranty. Aerons also retain their resale value well, which is great for an item that can cost a four-figure sum.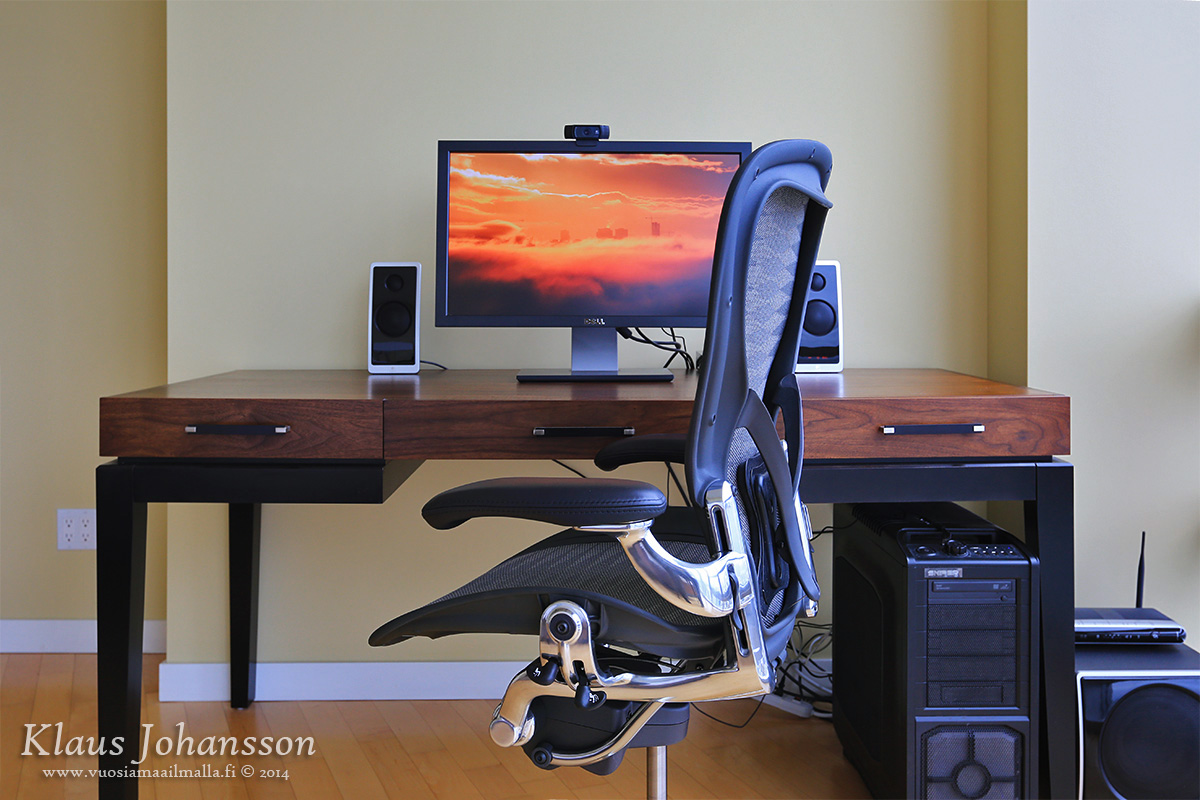 Aeron is a great companion for a home office
Based on my own experience I would feel comfortable (pun intended :wink:) to recommend Herman Miller's classic Aeron to anyone looking to invest in a new chair. I still have to stress that one needs to give one a try before deciding to buy. Be also on a lookout for Herman Miller's semi-annual sale event where brand new chairs are being sold 15% off. Use the money saved to get yourself an add-on feature you like. One should also not look away from buying an used Aeron. Based on my experience the chair is so sturdy that it should still be in a good shape after someone having sat on it for few years. Mine still feels like new, despite all the hours. 🙂
(Yhteensä 1 646 lukukertaa, 1 lukijaa tänään)