I am sure everyone has long term dreams that one has been contemplating in his head for long time, but for one reason or another has never taken on. I have several of these dreams and finally last November I took one of them and after years of consideration, bought myself a bit more special seat.
I am a racing game enthusiastic since ages, but controlling the virtual car with my keyboard or joystick has always lacked "that something". To put it in fancy terms, the racing has always lacked immersion of real driving. Step in the right direction was when I in 2009 bought myself Logitech G25 racing wheel package, which works both with PC and Playstation 3. G25 has been one of the best setups on the market and been selling very well over the years.  The wheel is covered with real leather and has a strong and precise Force Feedback, which adds vastly to any gaming experience. Also the included stainless steel pedals are high quality and have accelerator, brake and clutch, for any game supporting them. The package is completed with a six-speed 'H' pattern gearbox, which feels fine, but is a bit flimsy in terms build quality (the gearbox with G27 is a bit better, but still flimsy).
Although the racing wheel did add to the gaming experience, there was still the problem of attaching it somewhere during every gaming session. My temporary solution for a year was to attach it to a balcony table, but I always had to be attaching and detaching it after a game. The shaky table was also never ideal for intense races, where one really needs to spin the wheel to beat the other players. As a result I started to explore for a better solution and a gaming seat came to my attention.
I must admit that even I thought that owning a gaming seat is a very nerdy thing to do, so I needed to do some charming to justify buying one to my significant other. I can't remember how I managed to put it, but as a result I was given permission to buy one for our living room's beauty (or beast?). 😛
Selecting the right gaming seat proved out to be pretty simple thing, as Playseats Evolution offered simplicity, sturdy structure and, may I say, elegance in one package. Surprisingly finding experiences and comments on this seat online was not an easy task and I was left with several open questions. That is why I am writing this blog post both in Finnish and also in English, so I hopefully can help some other people currently contemplating exactly the same thing. 🙂
Despite the open questions I had, I took the leap of faith and ordered this beautiful, yet quite large, seat for myself. To my understanding all Playseats are manufactured in Italy from where it took (if my memory serves me correctly) four days for them to deliver it to Berlin, Germany. Due to the large size and the weight (around 25 kilograms) the shipping fees can be quite expensive. Luckily for me, the lowest fees are for orders to Italy and Germany, where the latter is perhaps explained by the huge simulator markets in the country. The Germans are indeed crazy about simulator games. There are train, airplane, bus, subway, tram, tractor, construction crane and truck simulators, just to name a few. Actually every sinlge time I visit either Media Markt or Saturn (local electronics stores), I am surprised to find a new simulator category being added to the rooster. 😆
Assembling the Playseat proved out to be simple and it took me one hour. Perhaps the most complicated thing was to figure out how to attach the separately sold rails under the seat as there were no instructions included with the sales package. Fortunately I found a review in Amazon.com that clarified it in plain English. Naturally it all made sense after being ready with it, but at first it didn't feel that clear at all. I must say that these rails are almost a must-buy, since without them adjusting the seat for different size gamers is both cumbersome and slow. Adjusting the telescopic pipes of Playseat also starts to show some wear and tear very soon, so rails are a must if you ever have anyone else coming over for a race. 💡
Another add-on I bought was a holder for the gearbox. If you have Logitech G25 (or the newer G27) and you plan on using the gearbox, you must buy this add-on, as it makes attaching the it so much more easier and sturdy. You need to disassemble the gearbox a bit to attach it, but it is all very logical and the results are great. The seat also supports other racing wheel brands, but I encourage you to verify this from the manufacturer's website before buying this seat.
When everything is then assembled, attached and distances adjusted, it's time to try out the new setup. The past couple of months I have been playing Gran Turismo 5 : Prologue, Need for Speed : Shift and more recently DiRT2, which all work fantastic with this setup. Racing feels just amazing! You wouldn't believe how much more you feel like really driving when you are seated in a sporty car seat and all the controllers are where you would expect them to be in a real car. The seat can also take some rough gaming and I have felt more sorry for the controllers than for the seat itself. 🙂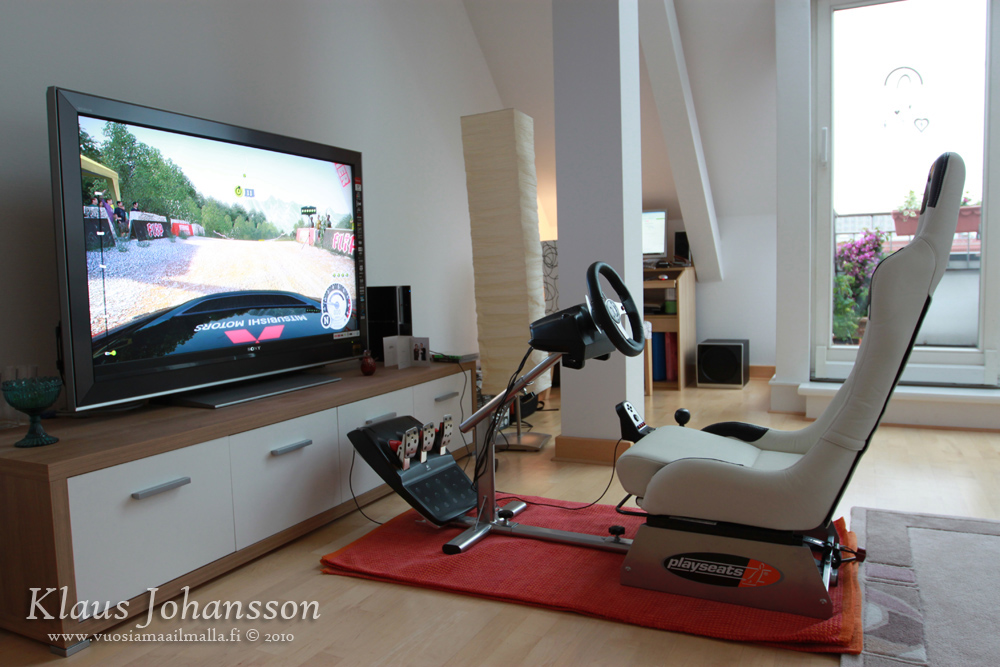 Everything in place and DiRT2 on

After few weeks with my new setup I felt extremely satisfied with my purchase. However, I still felt something was missing. The wheel does give you a sense of the road and the different surfaces, but it's only your arms feeling it. Rest of the body is lacking on the events of the game, which was weakening immersion with the game
Fortunately in America they have been thinking about this problem and come up with a device for the purpose: Buttkicker Gamer. The simple idea is to attach a small device to your seat and have it vibrate the seat according to the events on the game. The principle behind Buttkicker is simple: it takes the lowest frequencies of the game's audio track and vibrates the device based on that. There are similar devices being sold to be attached to a couch and watching movies. Having owned some of those, I must say they do add much intensity to an action sequence on the screen.
Buttkicker can be attached to any regular office chair's middle cylinder. Attaching it to a Playseat needs exercising some creativity, but with little thinking I came up with a working solution. It works perfectly, despite the fact that the rear bar of the Playseat is square-shaped and the Buttkicker is intended for round-shaped bars. Just put something between the two, tighted it up and voila! 🙂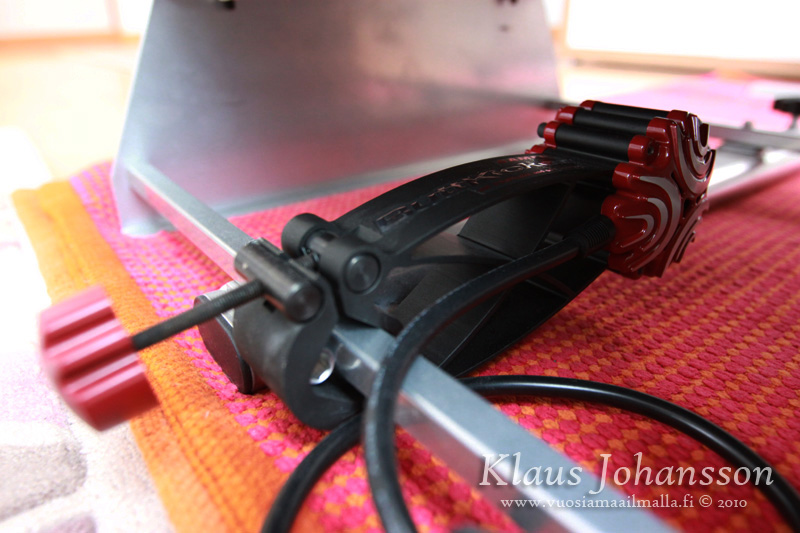 Buttkicker Gamer
As said, the Buttkicker only reacts to the low frequencies of the game, but since most of the crashes and car sounds are low frequency by nature, it works very fell. It does vary game to game how well the Buttkicker reacts to different game sounds, but fortunately the amplifier which drives the device offers lots of options for adjustment. After some trial and error I found a setting that I have been using ever since for every single game.
One thing one should remember to consider is that the vibration is not only isolated to the gaming seat. It travels along the floor to other structures in the room. So in case you don't want to be getting angry comments from your neighbours, I suggest isolating the seat from the floor using a carpet. I use three simple IKEA carpets I had laying around and they work perfectly. I can still feel the events of the games, but I am not disturbing others around me with the noise.
I must say that the Buttkicker really complements the setup and brings it to near perfection. A hardcore gamer would of course still add seat belts, use real racing suit and helmet and have a fan blowing to one's face for simulated airflow. I am just joking, but those hardcore enthusiasts do exist! For me my setup is perfect in the way it is and it adds so much fun to any simulator racing game. This is one important point worth emphasizing: the seat adds a lot to simulator games, but it adds very little to arcade driving games. So it is worth thinking what kind of games you normally play. 💡
So what do friends and colleagues think of this setup the moment they see it? The first time they hear about it they almost always laugh and show disbelief in one making any sense. However, after having sat in the seat and having had an addrenaline-filled race with it, the opinions change are completely contrary. I have so far had nobody trying the seat and having not liked it. And it's not just guys – also girls have fun giving it a try. So if you buy yourself one, be prepared for a long queue of interested test drivers soon after. 8)
Owning a Playseat is lots of fun and that's the whole idea of gaming – to have fun. I have no regrets for buying one, eventhough I tend to use it in seasons. If you are at least semi-enthusiasted racing gamer, I can only say Go for it! as I am sure you won't regret it. It's totally okay to make dreams come true every once in a while. 😮
Photos of the setup and some video from a rally stage
(Yhteensä 2 152 lukukertaa, 1 lukijaa tänään)