One of the unfortunate events of 2019 was our bicycles getting stolen on our summer vacation in Prince George. Our two Trek hybrid road bicycles had served us well for several years and seen hundreds of kilometres of road, only to be snatched from a secure hotel parking lot. This was a real bummer especially during a vacation but unfortunately insurance paid us back a reasonable about for the bikes and hence we started looking for new bikes this past January.
For some time now, I had grown increasingly curious about electric bicycles which I had seen many times fly by while I was sweating like an animal with my regular bicycle. Metro Vancouver is a rather hilly topography and especially living in Burnaby there is always an uphill no matter which way you go. However, a quick web search revealed that e-bikes are actually expensive – like, really expensive – and brand name e-bikes start at $2,000 with prices going all the way up to five grand and even more. This is several times the price of a regular bicycle and so my excitement started to wane  down the more research I did.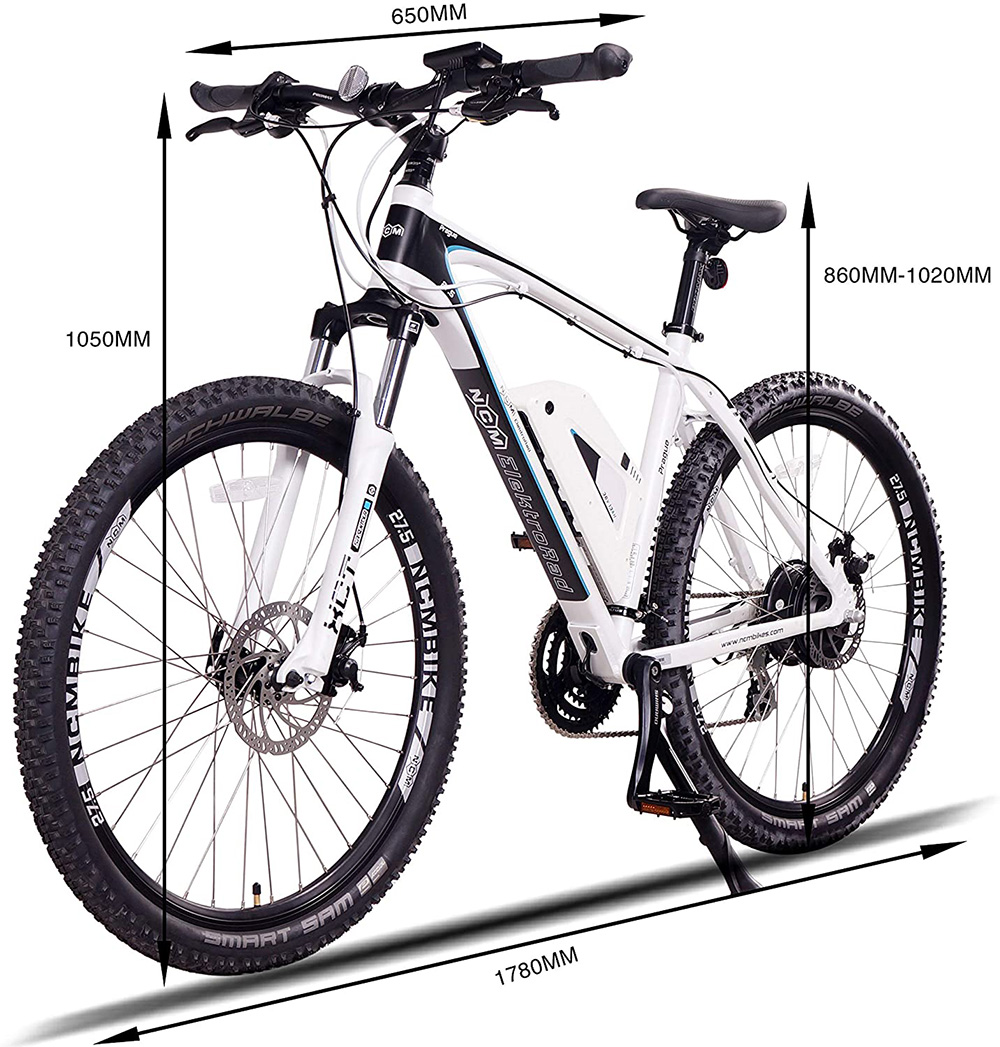 NCM Prague dimensions
There are some Chinese e-bikes on the market that were cheaper but reviews on those are few and vary greatly, which is why I am writing this review to help others in their search for a reasonably priced electric bicycle. There were some reviews of these Chinese bikes on Amazon, but the feedback was mixed which made me hesitant to put money down for one. The only brand I was seeing getting positive reviews an American brand Ancheer, which unfortunately wasn't being sold in Canada.
NCM e-bikes are now available on Amazon
I was almost ready to give up my dream of an e-bike but just then I came across three letters NCM which is a cheap e-bike brand with the cheapest model being called NCM Prague. Lucky for us, this bike was also available in Canada and for only $1,250 CAD (in 2020). This was one of the cheapest prices I had seen and I was pleased to read that NCM bikes are designed in Germany and manufactured in China. The price was unresistable and so we ordered ourselves two new Prague e-bikes.
Prague bikes comes in three sizes and two different colors. My wife (165 cm / 5'5″) went with the smallest 26 inch model and I (190 cm / 6'2″) bought the largest 29 inch model. There is also a third in-between size of 27.5″ which makes all three bikes a different physical size. Lucky for the sizes we chose were perfect for us and I found below diagram to be accurate.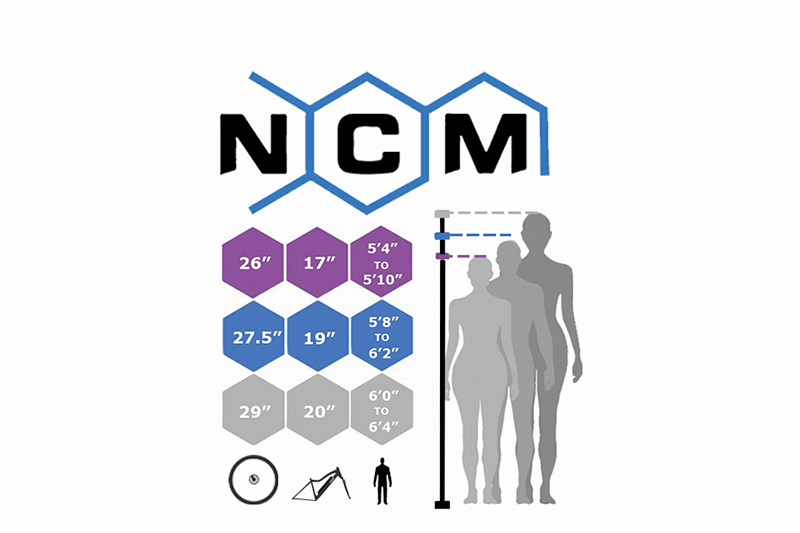 Correct wheel diameter is defined by rider's height
To make things trickier, NCM bicycles were not available on Amazon.ca (they are now), so we ended up ordering ours from a bike store in Toronto. We placed our order in early April which was lucky, as the COVID-19 has made it really hard find bicycles or bike parts this past summer. Our bikes arrived quickly and assembling them was a simple task with most parts being pre-assembled at the factory. Basically the only things requiring assembly are the handle bar, pedals and front wheel, and you are ready to ride. All necessary tools are included in the package.
Bicycles are packaged properly
Assembly was a simple job
After assembly it was time for a our first test ride which was quite exciting as we had no prior experience with electric bikes. Prague uses a rear-drive motor which turns on when pedal assistance is required. When not in use, the bike behaves like a regular bicycle, although it is pretty heavy at a 25 kilograms. The battery alone is a one beefy package and accounts for a lot of the total weight.
Instructions are clear and not even necessary
Interestingly enough, once you start riding it is easy to forget about the weight as rear-drive motor does all the work. The 350 Watt motor is called Das-Kit and the level of assistance is controlled from a small LCD screen. Assistance level 1 is great to get going from stationary and the assistance only kicks in once there is enough pressure applied against the pedals. It  all works very well and level two makes regular uphills no chore. Above that speed increases with the top speed being a very swift 32 km/h which feels like flying. It is also possible to use the assistance with a small switch on the right-hand side although we haven't found it that useful in most situations.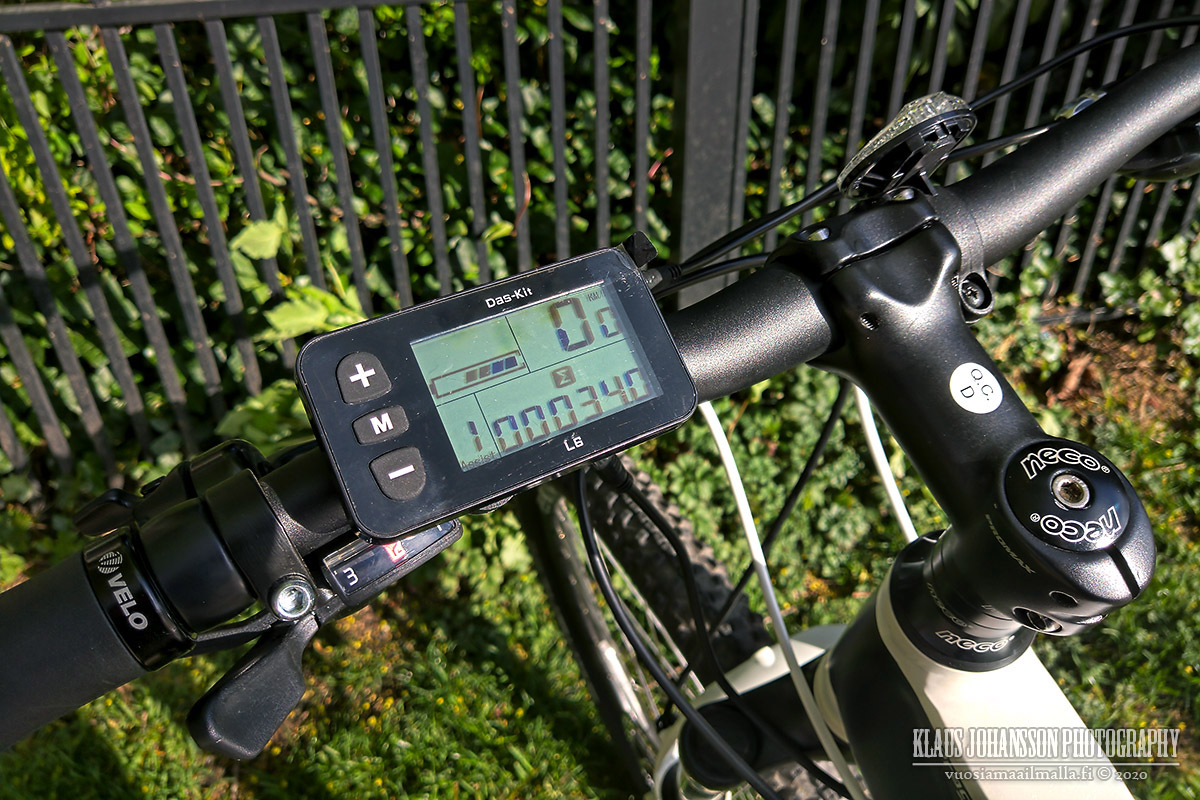 Assistance level is adjusted from a small LCD panel
Since we have no prior experience with e-bikes it is hard to rate the noise level but we do find it low. Based on what I have read on other motors they sounds a bit more refined and quieter, but we have nothing bad to say about Prague. It takes a while to learn how to properly use the motor, though, and one needs to be careful on curvy roads and while riding downhill. Fortunately the proper e-bike etiquette is simple to learn.
So how does an electric bike feel in use? Simply put, it's amazing. This is easily one of the best purchases in a while and having an e-bike makes cycling just as challenging or easy as one wants. With an e-bike any street feels flat to ride on and route options become numerous. There are certainly hills that are too much for the 350 Watt motor alone but even in those situation one is assisted enough to make it up without breaking a sweat.
One happy e-cyclist
Best part of an e-bike are all the possibilities that open up when a 50-kilometre ride is suddenly not a big deal anymore. Battery capacity seems to allow for a 65-kilometre range when using battery actively and there are some hills along the route. On a flat route even longer range is possible but 65 kilometres has been our longest ride so far. Interestingly enough, there are differences in two identical batteries and my wife's battery runs out slightly sooner than mine does, even when both are fully charged. In practice recharging is required after every long ride which is simple due to the easiness of taking the battery with you. How many recharges these batteries will hold remains to be seen, but we haven't noticed any change in range during the first 800 kilometres.
Battery range tends to be over 60 kilometres
Most of the time ride length is actually limited by the really hard saddle which makes your behind sore even when wearing cycling pants. Fortunately the saddle is easy to replace, which is something to consider next year. Otherwise there is very little that NCM Prague will require with one exception being lights, as the bicycle doesn't surprisingly come with any lights. Another noteworthy thing is that while the 26 inch model comes with a kickstand, the 29 inch model does not. According to our bike store this is a feature and a small bummer, although cheap to address.
Based on our experience owning an e-bike is a revolutionary experience which will make going back to a regular bike a tough sell. Once we just have our car equipped with a new bike rack, the entire Lower Mainland will be our playground. Cycling is an awesome way of seeing a new side of familiar areas as most bike routes take quieter side streets which one doesn't see while driving.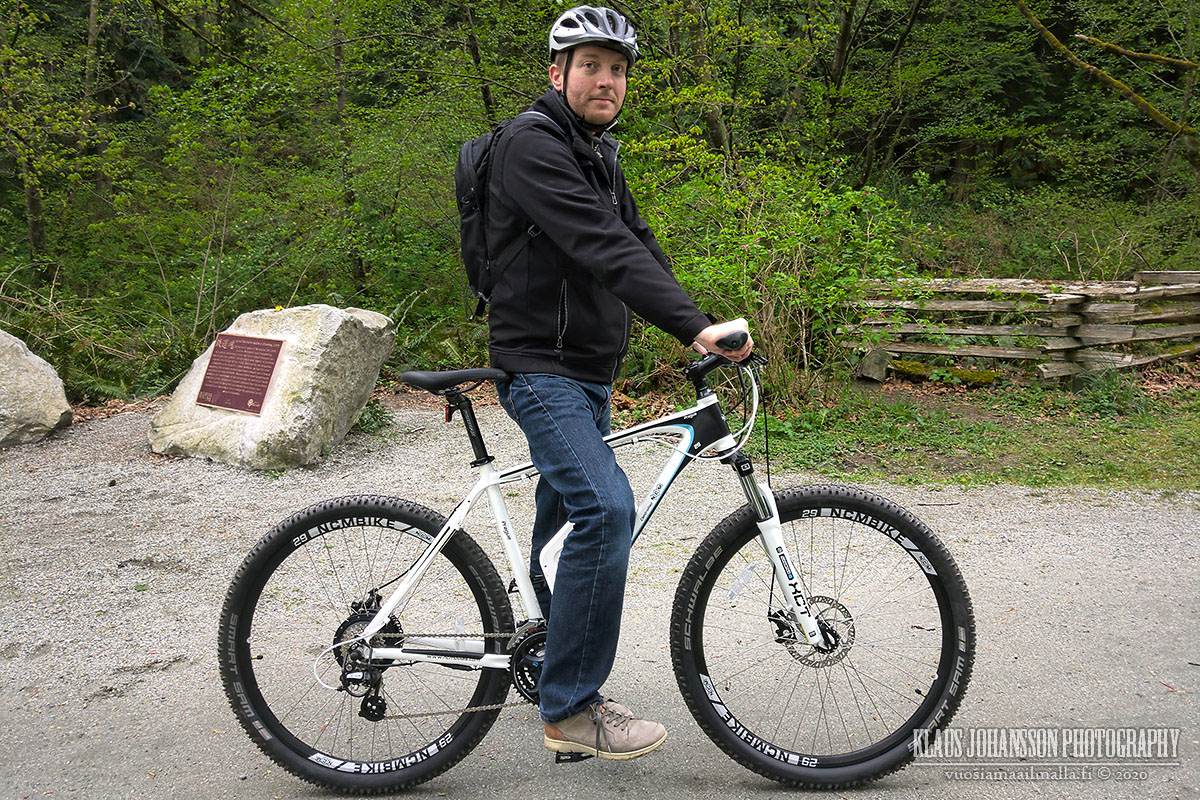 First e-bike ride
I plan on updating this posting with more information in the future, should there be any defects or problems with our bicycles. Based on the first 800 kilometres on the road I can already warmly recommend NCM Prague as a very reasonably priced and well-equipped electric bicycle. Especially here in Canada the price is pretty hard to beat and lucky for us our bikes ended up costing us only few hundred bucks after the insurance payment from the stolen ones. Now all one needs to do is to keep these bikes from thieves which is an enormous challenge in Vancouver.
(Yhteensä 905 lukukertaa, 1 lukijaa tänään)